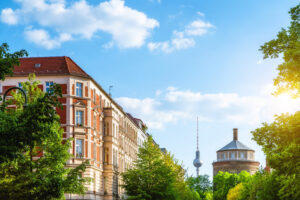 Gesucht: Two people (project core team - 30-hour positions) for expansion and establishment of PROSA - project to create artistic workspaces.
Bündnis Freie Szene Berlin (e.V) is looking for 1. January 2021 two people for the expansion and establishment of the project to create artistic workspaces PROSA. The overarching goal of PROSA is to create and secure needs-based artistic workspaces for artists from all art fields working in Berlin. To achieve this goal, the project team works closely with Kulturraum Berlin GmbH, which is sponsored by the Foundation for Cultural Further Education and Cultural Advice, and forms its interface with the independent scene. Furthermore, the project team is in close contact with the Senate Department for Culture and Europe, BIM (Berliner Immobilienmanagement GmbH), GSE (Gesellschaft für StadtEntwickige GmbH Treuhänder Berlin), the studio office in the bbk's cultural work, the Berlin dance office and the associations and Representatives of the independent scene.
Bündnis Freie Szene Berlin e.V. is an amalgamation of member-based associations, clubs or other associations of persons in the independent scene of contemporary art and culture in Berlin. Current members are (on October 22 2020): bbk berlin – berufsverband bildender künstler*innen berlin e.V., IG Jazz Berlin e.V., inm – initiative neue musik berlin e.V., LAFT – Landesverband freie darstellende Künste Berlin e.V., Netzwerk freier Berliner Projekträume und –initiativen e.V., Netzwerk freie Literaturszene Berlin e.V, ZTB – Zeitgenössischer Tanz Berlin e.V.
The term "independent scene" defines the entirety of all freelance artists, ensembles, institutions and structures in Berlin in the fields of visual arts, dance, performing and performing arts, music, literature as well as all cross-disciplinary and transdisciplinary artistic works .
We are posting two positions with an application deadline of up to December 1st 2020
:
1. Project coordination, needs assessment and communication (30-hour position with budget and personnel responsibility, E13)
The tasks and areas of responsibility include:
• Analysis, evaluation, processing of different needs and requirements
• Coordination of all actors involved in the project
• Representation of the project towards all involved actors (Kulturraum Berlin GmbH, cultural administration, Bündnis Freie Szene Berlin e.V., project developers, studio office, dance office, GSE gGmbH, BIM, etc.) and the general public, administrations and the House of Representatives
• Ensuring a smooth flow of communication between the independent scene and the cultural space office (including field service)
• Determination of requirement profiles in cooperation with the associations of the independent art and cultural scene
• Elaboration of cross-sector usage and operator concepts for development projects of overall urban importance in coordination with other actors from the independent scene
• Support / advice in the conception and implementation of space allocation procedures
• Documentation of currently used locations as well as the creation of a "red list" of endangered locations, presentation of the additional need for spatial infrastructure for branch-specific and cross-branch artistic work projects
• Formulation of minimum standards for the spatial infrastructure for artistic work
• Elaboration of proposals for the improvement of the Berlin funding system as well as for the maintenance and development of spatial infrastructure for artistic work
• Accompanying the development and expansion of the digital platform for the presentation of processes and offers of the cultural space office
Qualification profile:
• Completed relevant academic university degree in an activity-relevant subject (e.g. urban / regional planning, real estate management, architecture) or equivalent relevant skills, knowledge and experience
• Professional experience in the real estate industry, project development and coordination in the real estate sector, taking into account the specific requirements / interests of the various actors and / or the independent art scene
• Project management and project management experience as well as knowledge and experience in the application of the methods and instruments of project management (project planning, control and evaluation / structuring of work processes etc.) taking into account the specific requirements and interests of internal and external actors
• Knowledge of the development of cultural spatial use concepts and the cultural examination of objects as well as the current urban development of Berlin
• Teamwork and communication skills
• thorough knowledge of administrative procedures and political decision-making and participation processes (stakeholder dialogue)
• Thorough knowledge of tenancy, building and planning law as well as individual aspects of granting, awarding and contract law;
• Basic knowledge of the Berlin cultural landscape and in particular of the independent art scenes of the various art branches
• Diversity and intercultural skills as well as foreign language skills (English)
• IT user knowledge in dealing with standard software (MS Office, MS Outlook, Internet) and the ability to use media-based presentation and visualization techniques as well as moderation and presentation
Submit your application by December 1st 2020 in PDF format and by email to: info@koalition-der-freien-szene-berlin.de
This call for tenders is subject to the funding of the sponsors. Conclusion of the contract after the funding has been granted. Applications from women and people with a migration background are expressly encouraged. Severely disabled people or people with equal qualifications will be given preference if they are equally qualified. Please indicate a severe disability in your application.